7 Myths about Equipment Financing
Financing options are a key component to close sales. But most sellers aren't fully leveraging the benefits and flexibility of broad financing options. There are a lot of misconceptions about the billion-dollar equipment financing industry.
Are any of these myths holding you back?
In this ebook, we'll uncover the truth behind 7 common equipment financing myths you shouldn't believe anymore.
Check out this ebook to learn:
---
+ How long most customers wait for the traditional bank loan
+ How many customers get rejected for financing every day
+ How to leverage financing to help customers make faster buying decisions
+ Why your current financing solution is seriously limiting your business.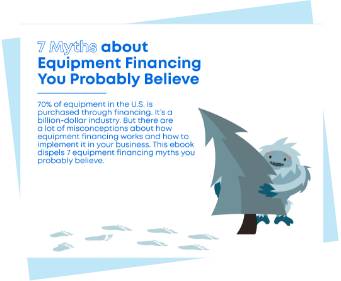 Customers are unique. Your financing options should adapt to meet your customers' needs. Traditional financing options are perfect for people with perfect credit. But new approval algorithms can approve more customers regardless of their credit score.