How Flexible Payment Platforms Are Disrupting B2B Financing Ebook
There's a new type of business buyer taking over the small business equipment market. And old-school financing doesn't cut it for these next-gen business owners.
Buy Now, Pay Later programs have taken over B2C selling. And now, it's ready to revolutionize the B2B space, too. Are you ready to embrace it?
Check out this ebook to discover:
---
+ 5 reasons traditional financing doesn't fit the modern business buyer
+ What "Buy Now, Pay Later" means for your business
+ How BNPL solves 3 traditional financing problems
+ How to leverage all disruption to make your business thrive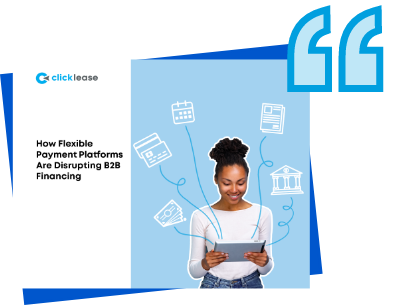 These fintech solutions get to the heart of the pain points surrounding financing. They're

 

simple, offer on-the-spot decisions, and have fixed fees and costs as opposed to credit cards or other lending options. They're also transparent. It's easy to understand at the time of purchase exactly what you are paying for, how much you'll be expected to pay, and the terms of your agreement.