The B2B world is changing. B2B buyers are looking more and more like B2C consumers. Are you ready to sell to them?
Small businesses, start-ups, and side-hustlers make up a large and growing chunk of the B2B buying market. But these "prosumers" don't think like your typical B2B buyer. There's no buying committee, no finance team to consult, and no top-down annual budget to adhere to. In short—they look pretty much like any everyday B2C consumer, buying shoes or a new laptop.
But that might not be a bad thing, because there is a LOT of research into the mind of a B2C consumer, what they want, and how to give it to them. Let's take a look:
Let's Talk about Price
Price is important; even critical. The Harvard Business Review's definitive guide to B2C and B2C buyers places "acceptable price" at the base of the "B2B Elements of Value" pyramid, in a category they call "table stakes."
"Table stakes" covers the rational concerns your B2B buyer will have about their prospective purchase: does it meet specifications, pricing, compliance, and ethical requirements? If you don't meet the "table stakes" you may as well not show up.
The elements of the "table stakes" are so rudimentary, they can't really be considered unique differentiators. Today's B2B buyers want something specific in their purchasing experience, and it's far more complex than simply snagging a good deal.
Price Isn't a Differentiator. What is?
In the article, the authors identify more than 40 elements of value that matter most to B2B buyers and organize them into five categories:
Table Stakes (Practical Concerns)
Functional Value (Economic & Performance Considerations)
Ease of Doing Business Value (Productivity, Operational, Access, Relationship & Strategic Concerns)
Individual Value (Personal & Career Goals)
And Inspirational Value (Sense of Purpose)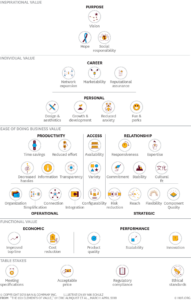 Here's what it all really means. Expanding your overall value proposition requires taking an outside-in perspective that positions your customers' practical and emotional needs first and foremost. You're building an experience for the customer, not simply a product.
"A product or service might function just fine," say the authors, "but if customers find the purchasing, order tracking, or technical support process terrible, many will seek out other suppliers."
Your entire buying process should put the customer experience first.
Create a Flawless Experience for Today's Small Business Buyer
Your prosumers think like B2C customers. Their purchases are generally larger than a typical B2C transaction but not large enough for traditional B2B lenders. They fall in the middle ground of significant opportunity for equipment sellers as cash-flow issues inhibit at least 40% of your customer base.
Supplying a payment option that works for credit-challenged SMBs or cash-strapped startups opens you up to a previously untapped source of revenue, because if these potential customers don't see a payment option that works for them at checkout, they're not going to stick around.
Clicklease creates a purchase experience that your prosumers have come to expect online and elsewhere. For example, where a B2C customer can purchase a pair of designer jeans in three manageable installments using a payment platform like Affirm, your prosumer can do the same for your equipment with Clicklease. It's called Buy Now, Pay Later.
Approvals are instant and accommodate a broader range of credit profiles than traditional lenders (500+ FICO). Payments are broken into affordable lump sums, which places the equipment your prosumers need to start, scale, or grow their businesses suddenly in reach.
Understanding what modern B2B buyers want both rationally and emotionally gives you actionable line items to improve your value proposition and avoid the commodity trap, but as the entry point into their long-term relationship with you, the purchase experience is critical to get right. Nail it every time with Clicklease.